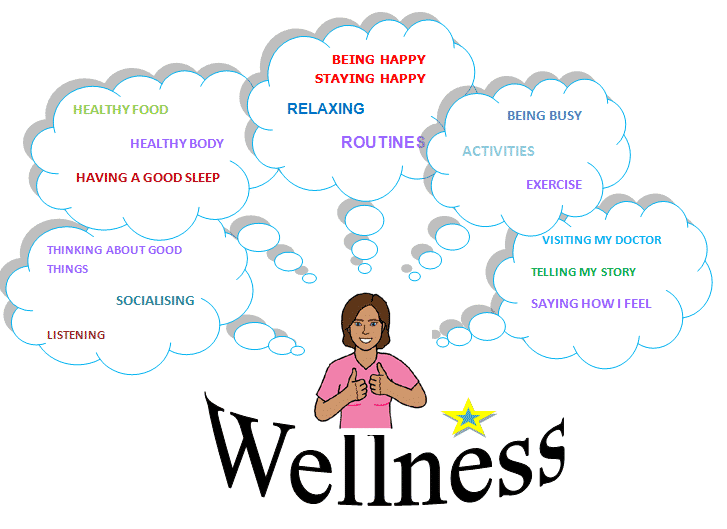 Project
This project has now finished, and the final project report is available to download here. For an introduction to the project from the preliminary stages, see below.
We plan to provide community based interactive sessions to adults with Learning disabilities and mental health conditions in order to increase and enable greater understanding of how they can work individually or in collaboration with professionals to manage and maintain their own wellbeing. We hope to equip individuals to recognise stressors and how they can respond proactively to them and when it may be appropriate to develop specific plans to manage a crisis. During the promotion of the workshops paid unpaid and family carers will be encouraged to attend to both support individuals and to consider their own wellbeing needs.
Each session will be lead by one of the project members and co-facilitated by a mixture of health and social care and third sector staff. It is hoped that this involvement will provide an opportunity to educate and share the principles of a recovery based approach and the importance of maintaining a healthy lifestyle.
In each session both the client and the carers will work on their own Feeling better staying well poster, identifying what keeps them well, what can contribute to making them unwell and the factors that can aid recovery and maintain the feelings of being well. The Aberdeen sessions will take place in the community health and care village designed to provide a service that supports health care in the local community and is familiar to Aberdeen city clients and carers. In Aberdeenshire a variety of venues are being considered including the use of local authority and third sector venues.
People with Learning Disabilities have a higher prevalence of mental health difficulties than that of the general population with rates of 30-50%. There is also a higher rate of physical ill health in those with Learning disabilities and physical health problems such as pain, infection, epilepsy, constipation and medication can often trigger or worsen mental health issues.
During the 10 session's speakers from health teams and the third sector will attend to provide awareness sessions relating to Healthy eating, exercise, smoking and the importance of meaning activity and active support. Other topics will include drug and alcohol use, feeling sad, managing anxiety, stressors and stress management and relaxation. As the sessions progress and information is provided each participant will be encourages revisit their posters to review their plan and in doing so giving them the opportunity to incorporate factors that have been discussed that maybe relevant to them and their wellbeing.
At the end of the programme participants we leave with their own Feeling better staying well poster and accessible information relating to the topics covered and contact details for a range of support networks. We will ask all participants complete a pre course survey that will be repeated at the end of the course in order to gauge any change in personal thinking about their mental health condition, being unwell and keeping well.