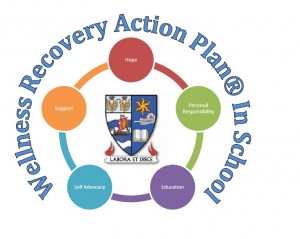 Project
This project has now been completed, and the final project report is now available. For an introduction to the project from the preliminary stages, see below.
Wellness Recovery Action Plan (WRAP) is a self-management tool used to help individuals take more control over their own wellbeing.  This project is designed to enable children to design a personalised WRAP looking at how to manage day to day life.  14 pupils from a school in North Ayrshire will be given the opportunity to take part in workshops.
The participants will be supported to better understand what keeps them well and how they can maintain their wellbeing.  There will be the opportunity for families to attend a WRAP session, separately, and alongside the pupils, to help the family as a whole stay well.
While WRAP has been successfully introduced to two schools in Scotland, this would be the first of its kind in North Ayrshire, and would allow an opportunity to capture the outcomes and improve the evidence base for Scotland.  The project will be used as a springboard to explore wellbeing issues more broadly across the school, and within the local Child and Adolescent Mental Health Service.