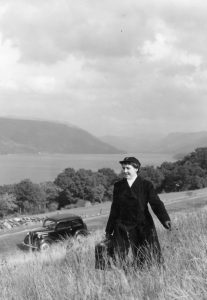 The Queen's Nursing Institute, our sister organisation in London, are using a wall calendar to celebrates the charity's 130th anniversary next year.
Illustrated with photographs of nurses from the QNI  archive, from the Victorian and Edwardian era through to the early decades of the NHS.
One of the photos featured is of Scottish Queen's Nurse Katy Shearer on her way to a visit at Loch Fyne.
The calendar is available from the QNI's online shop priced at just £4.99 plus p&p.
Printed on high quality card, A4 horizontal format, each month is a double page spread.
All proceeds from the sale of the calendar go directly to charity.