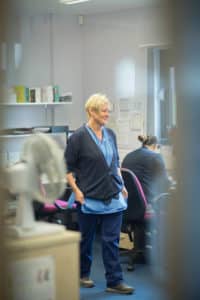 Queen's Nurse Barbara McFadzean recently took part in a webinar hosted by the International Foundation for Integrated Care (IFIC) Scotland.
Barbara spoke about her role as a District Nursing Sister in NHS Ayrshire and Arran as part of the second series of webinars on people-centred integrated care in practice.
The webinars are hosted by IFIC Scotland  in collaboration with the University of the West of Scotland, the Institute of Research and Innovation in Social Services, the Health and Social Care Alliance and Advantage JA.
As part of the event, a video of Barbara talking about the role of district nursing in co-ordinated care and her recent involvement with the Queen's Nurse programme was shown.
You can watch it below and read more about the webinar series here