Clare Stiles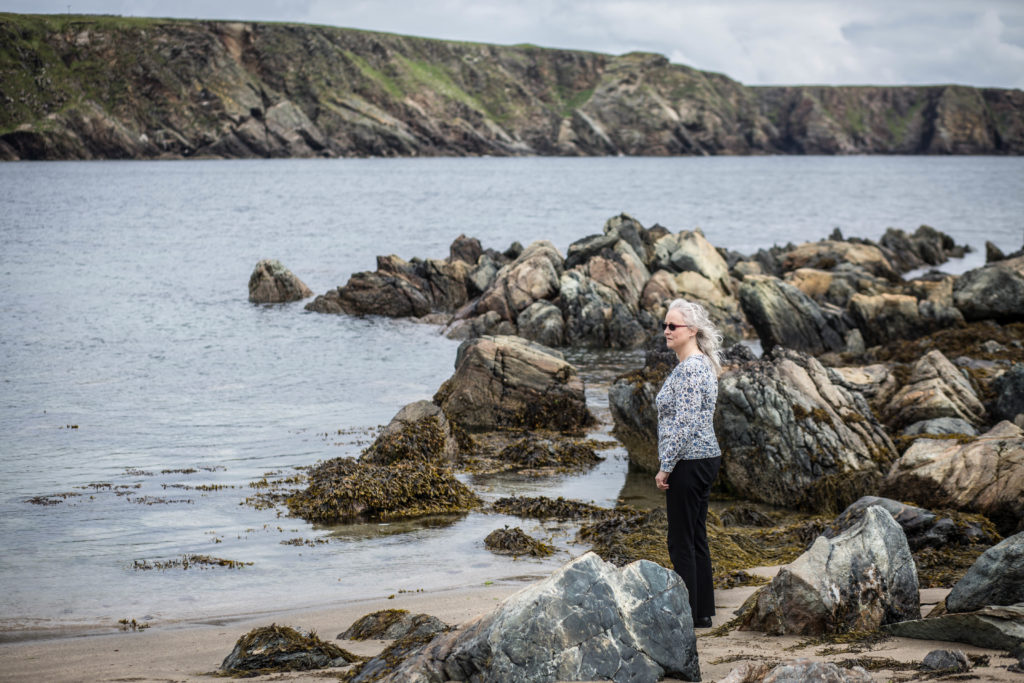 Great Skuas are wheeling high in the sky over Burrafirth beach on the northernmost tip of Unst, itself the most northern of the Shetland Islands. Known locally as Bonxies, these large birds are fierce in their defence of their territory, and will maim and kill if they can. Watching them swoop down to persecute a lone lamb on the hillside below is a reminder that nature is indeed very red in tooth and claw up here at the far top of the British Isles. The people have to be pretty resilient too.
"It's a long way from a hospital, and we are struggling to recruit doctors at the moment," says Health Visitor Clare Stiles. "Community nurses are providing the continuity when it comes to health care here."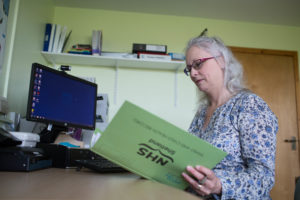 Previously a triple duty nurse, Clare has worked as a Midwife, District Nurse and Health Visitor, meaning that she has tended to the needs of the youngest and the oldest, and everyone in between. When she came up from the south to work on the island of Yell 23 years ago, she became the school nurse too. "For me, it was a bit like coming home as I grew up in a little village in the middle of Derbyshire."
Some of the islanders on Yell knew who Clare was before she even stepped onshore. "I had delivered the niece of one of the local lads when I was working down in Chichester," says Clare. "There was a drink waiting for me at the bar when I arrived."
As NHS Shetland's team Leader for Child Health, responsible for managing the team and redesigning how things are done, Clare oversees all the school nurses in Shetland, children's nurses, health care support workers, and Health Visitors. Together, they look after the health and wellbeing of 1,395 children living on 15 different islands, most of which have primary schools and are served by seven secondaries.
There's a Hospital Children's Nurse based in Lerwick's Gilbert Bain Hospital, and a Community Children's Nurse who works in the community across the whole of Shetland. The Health visitors are GP-attached and focused on under-5s, and with a healthy birth rate of around 350 deliveries a year, they are kept busy.
As well as managing the service, which she does from an office in Lerwick, Clare maintains her clinical skills by working as a Health Visitor and Practice Teacher on the islands of Yell, Whalsay and Unst. There are 147 under-5s living across these islands, and she is responsible for them all.
Today's visit is to the family of a newborn in Uyeasound. Emma Ramsay, who also happens to be one of Unst's GPs, gave birth to daughter Grace three weeks ago in Aberdeen. With Grace's big brother Thomas and sister Lizzy looking on, Clare weighs the baby, who is putting on the pounds well.
Mum Emma tells Clare that the advice she gave last time, to place salt in the baby's umbilicus before rinsing with water to help with healing, worked. Emma also expresses surprise that gentle massage can be used to alleviate her baby's 'sticky eye', caused by a blocked tear duct. "I wouldn't have known that," says Emma. "It's Clare's experience and depth of knowledge that makes all the difference for me."
Unst is two islands and two ferry crossings away from the Shetland capital, Lerwick. But there are the same social issues as everywhere else –drink, drugs, domestic violence, abuse – and Clare has a significant role when it comes to child protection. Together with social work colleagues, she will assess situations involving vulnerable children, attend case conferences and write court reports. "In such a small place, it can get difficult at times," she says. "But if everyone keeps the child's best interests at heart, we can still have a good relationship with the families."
To improve communication between all the organisations that touch on children's lives, there are regular multi-agency meetings involving education, health, mental health, social work and the police, where action plans are discussed.
Daily, Clare and her team make contact with GPs, social workers, early years workers and clinical specialists, keeping in touch about children's care. The nurses practice autonomously, and can refer young patients on directly. "It takes courage to practice the way we do, but we have the training and experience to cope with it, as well as the support of the team and managers," she says. "We are developing a streamlined service that makes life as easy as possible for families, and we are asking them how things can be improved."
Clare promotes strengths-based nursing, which supports families to find solutions to problems such as such as a child's wakefulness at night or bed-wetting. "We help parents to identify their own strengths to help them parent their child," she says. "That way, they will feel better about dealing with issues themselves."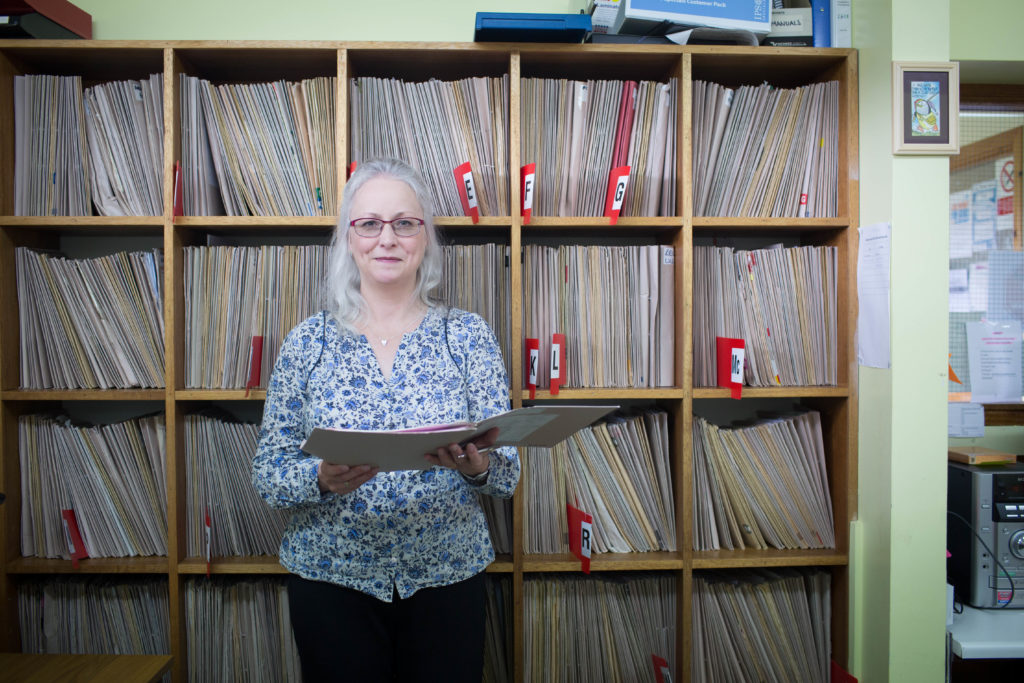 At Unst Health Centre, Clare holds a fortnightly child health clinic and catches up with colleagues before going out on home visits. "It's important that I keep in touch with staff," she says. "They can tell me whether there have been any concerns or health issues for any of the children."
"As a practice teacher, I take student health visitors out on clinical placement and tie in theory with practice," she says. "I love seeing them develop as they go through the stages. They blossom, and it's wonderful to see."
She hopes to attract newly qualified nurses back once they have completed their training, and encourages Shetland-based nurses to pursue Heath Visiting as a career. "If we train our own, they tend to stay," says Clare. "So we act as ambassadors to inspire them."
Had it not been for terrible stage fright, Clare might have been a classical musician: as a teenager, she won a scholarship for clarinet lessons with the head of wind instruments at the Royal Northern College of Music in Manchester. She went into nursing instead, but music remains an important part of her life, and she plays clarinet and saxophone with a group of friends in her spare time. "Shetland's a great place for music and socialising," she says. "I can't imagine ever going back to the mainland now."
Clare and her husband Graham, a care home manager, live on Yell and enjoy taking to the road on their fast motorbikes. They were part of a squad in Brae's annual Up Helly Aa Viking Festival, and Clare is also vice commodore of her local rowing club, crewing a traditional yoal on the veteran's rowing team. "It's very competitive. A few villages own boats and we race each other in all weathers, half a mile out on the open sea," she says. "That's a great stress buster after a hard day at work."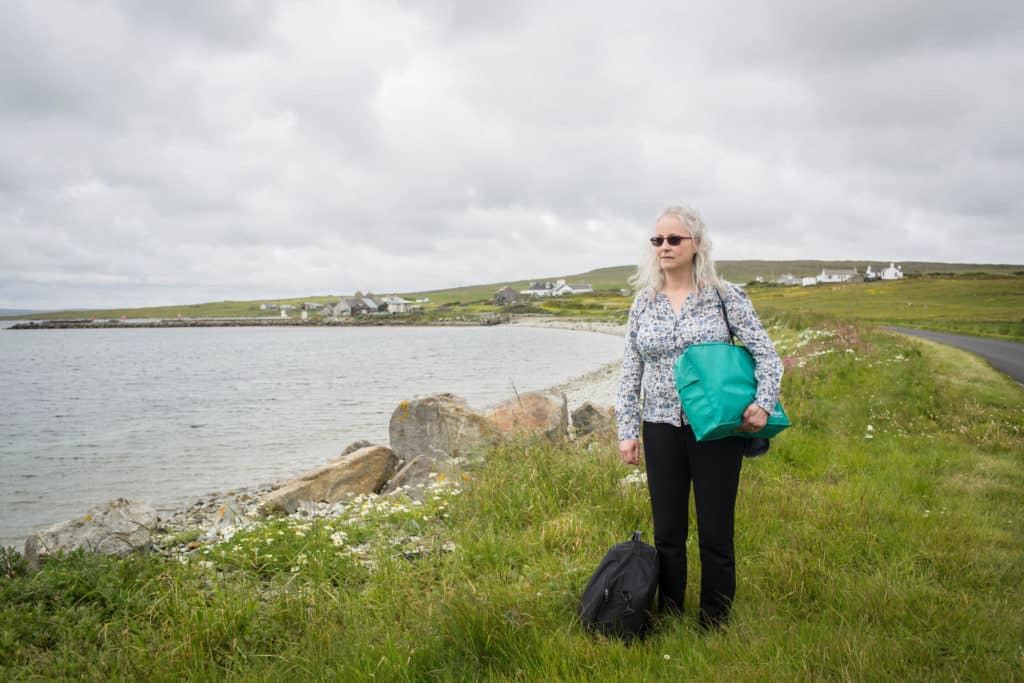 When it comes to her ambitions, it's simple. "I want our nursing to be excellent. To be the very best it can possibly be, and to make a difference to people's lives," says Clare. "Being a Queen's Nurse is challenging me to think about how I achieve that, and pushing my boundaries creatively."
By Pennie Taylor
To learn more about our other Queen's Nurses involved in children's health, meet health visitor Gemma, midwife Hilary and school nurses Joan and Lesley.